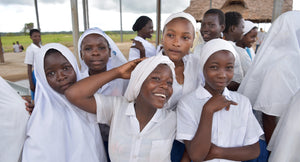 Empower Kenyan Students with Secondary School Education
Run for Kenya
On the 19th March 2023 I will run my first ever Marathon - 42,2Km of running that will take place in the beautiful city of Barcelona, Spain.
Although this challenge was born from an individual desire of self-betterment, I wanted it to serve and make a difference in the lives of others as well. 
Therefore, by joining forces with the Healing Hands Action Club, we will be raising money to empower young adults in Kenya with education. This project will allow students to attend secondary school - girls, young adults living with disabilities, and vulnerable teenagers will be prioritised. The goal amount for this project is 20000€ - we aim to raise 10000€ and doTerra will match whatever we raise. 
Join us on this journey either by giving a financial contribution, by spreading the word, or joining me on the 19th March in Barcelona either to run or just celebrate with us our achievement for these children. 
On the week starting on the 20th of March I will have the opportunity to bring you first hand the vision of the impact we are having out there as I will be flying to Kenya to witness it all. 
I invite you to join hands with us as we help these leaders of tomorrow empower themselves with skills and career-development opportunities.